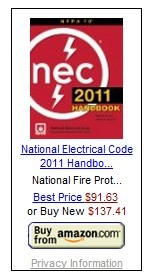 It comes out every three years and is pretty much the law of the land in many industries. Also called the code book, it covers standard practices in wiring (low voltage circuits), conduit or ductbank installations, overcurrent protection, grounding and bonding, and many other things.
In short, it is hard to practice engineering with this not in hand. Get it!
Disclosure: The above link is an affiliate link. Proceeds from sale will go to paying hosting fees for this website and also to my current charity of choice – Wounded Warrior Project.