Are you fascinated by the equipment inside the substation? Use this resource to learn about major substation equipment.
Start with the power transformer image below.
Think you have this covered? Test your knowledge, attempt the quiz at the end of this post.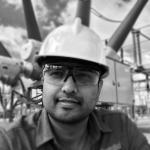 Registered Professional Engineer | MSEE
Skillset: Substation Design | Power System Studies | Arc Flash Study
DISCLAIMER: ALL VIEWS EXPRESSED IN THIS ARTICLE ARE MINE ALONE.