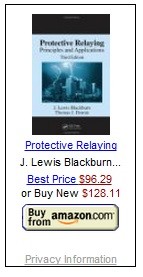 It is hard to miss this book if you have been in the power industry for a while. You will find it on the desk of seasoned electrical engineers. Personally, it is my go-to guide for information on transformer protection, system grounding principles, and ofcourse, does an excellent job of explaining per unit systems. The latest revision of the book covers substation design in detail. Information presented to the readers is based on personal and practical experiences of the authors and will certainly be very valuable to future power engineers.
My word – get a head start in the industry with this book.
Disclosure: The above link is an affiliate link. Proceeds from sale will go to paying hosting fees for this website and also to my current charity of choice – Wounded Warrior Project.